Sybil - he/they - 19 - 06/21/1999
Hello! I'm Sybil and I'm a massive furry! I really love rhythm games, OCs, and worldbuilding! I write a comic called
Welcome to Avelheim!
I love talking about my interests with people, so feel free to chat with me!
MBTI - INFP / Temperament - / Enneagram - 6w7 / Arcana - The Sun / Alignment - Neutral Good / Lavender Aura / Yellow and Pink tinted rainbow / HTML Color - Lavender

Interests
*Nier
*Pokemon
Hello Charlotte
Sinoalice
Cookie Run
Lost Media
Rhythm Games
Drakengard
McElroys
Granblue
Crystals+Gemstones
+ More!

Facts+BYF
I'm a transman, please don't follow me if you're a transphobe
If I mess up please tell me! I want to learn from my mistakes.
I have IDs but I don't talk about them here.

DNFI
Fit the usual dnfi criteria, racist, homophobic. pedophile, etc.
Are a terf
Ship IRL people
Are under 15
thx for reading!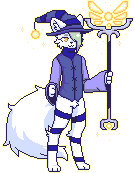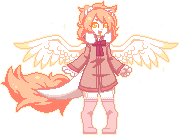 Pixels by
Mue!